Yogis, dancers, musicians, wanderers, hoopers and lovers of all stripes are welcome at the summer Wanderlust festivals. We'll be there– will you?
Wanderlust Festivals happen around the world, offering yoga, music, dancing, and days of fun in stunning locations. This summer we have Aspen/Snowmass and Squaw Valley (Tahoe). We got to spend four nights in gorgeous Squaw Valley last summer and were totally in awe of the natural beauty, expanse of events, and general good vibes.
Details about Wanderlust Aspen/Snowmass (June 30-July 3, 2016)
Practice YOGA— Aspen will host top tier yoga classes taught by the world's most sought after teachers: Seane Corn, Kathryn Budig, Ashley Turner, Rod Stryker, Eoin Finn, MC Yogi, Kerri Kelly, Mary Beth LaRue and more
Dance your Heart out to some MUSIC – Get down with live performances featuring reggae great Steel Pulse, the Australian fusion of Xavier Rudd & the United Nations, Karsh Kale's atmospheric electronica, the indie folk of Magic Giant, as well as Elijah Ray, Son Little, and the sweet beats of DJ Drez, DJ Sol Rising and more.
MEDITATION –Find your seat on the meditation cushion with renowned teachers such as Thomas Droge and Sarah Martin, Liza Dousson and more.
Explore Colorado's NATURE – Like other Wanderlusts, Aspen is a pretty gorgeous place for a festival. Learn how to stand up paddle board, explore nature with hikes and runs, and learn skills with outdoor meditations, photo treks, and more.
Learn from their TALKS – Aspen will feature poet, activist and social media star Prince Ea; environmentalist Lauren Singer will examine ways to lead a trash-free life; and in this election year, you can engage in the Wanderlust Town Hall meeting, to discuss issues that are shaping our country and to find mindful solutions with Kerri Kelly and Mike de la Rocha.
Learn more about Wanderlust Aspen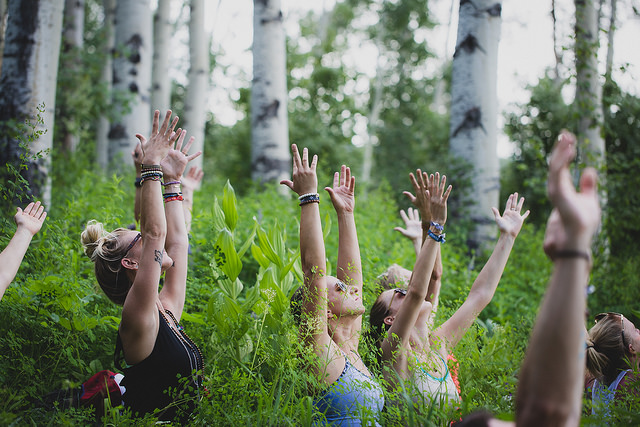 Details about Wanderlust Squaw Valley, Tahoe (July 14-17, 2016)
Do some YOGA: This year's lineup includes yoga superstars: Seane Corn, Shiva Rea, Dharma Mittra, Gurmukh, Eoin Finn, MC Yogi and more
Listen to some MUSIC – Wanderlust is as much a music festival as a yoga festival, and one of the things I loved most about Squaw last year was the ongoing music at all times of the day. This year you can jam with Yeasayer, reggae great Stephen Marley, the electronica/world fusion sound of Beats Antique as well as Magic Giant, Son Little, Kaminanda, Kevin Paris, Masood Ali Kahn and the sweet beats of DJ Tasha Blank, DJ Drez, DJ Sol Rising.
Relax deeply with MEDITATION –Relax and get centered with meditation classes from renowned teachers such as Noah Levine, Sianna Sherman, Julie Rader Wellan, Shakti Sunfire and more. Last year I took my very first meditation class at Squaw, and wrote all about it here.
Revel in NATURE – Squaw Valley is a wintertime ski resort high in the mountains overlooking Lake Tahoe. This incredible setting, along with mid-summer weather, made for a truly gorgeous event. We opted to camp at High Camp, a 2,000 foot cable-car climb that afforded unparalleled stargazing, incredible views, and a deep connection with the quiet side of the festival. The festival offers tons of non-yoga based activities like stand up paddleboarding, explorative hikes and adventure runs to kayaking, outdoor meditations, photo treks and more.
Expand your MIND– You guys, Jason Wrobel is going to be there and I'm going to try my hardest not to get all fan-girl on him. There are tons of other speakers too: Jeffrey Hollender, co-founder of Seventh Generation will discuss sustainable business and corporate responsibility and Lauren Singer who will discuss practical ways to create near zero waste, among others.
Learn more about Wanderlust Squaw Valley.
Read my full synopsis of Wanderlust Squaw Valley from 2015.
Wanderlust Squaw Valley photos by Ali Kaukas for Wanderlust Festival; other photos from Wanderlust Festival
This post may contain some affiliate links. Currently I am affiliated with Avocado and Mountain Rose Herbs, and Amazon Affilaites to support my favorite supplements and superfoods. If you purchase something from these links I make a small commission that supports my work and keeps the site running. Thanks for supporting Vibrant Wellness Journal!